In the world of Mac repair, challenges can emerge unexpectedly, and each case brings its unique story. Our customers are at the heart of everything we do, and their trust in our expertise is what drives us to excel. In this blog post, we'll share the details of how we successfully restored a water-damaged M1 MacBook Air.
Our customer's M1 MacBook Air seemed ordinary at first glance, with no visible external damage. However, the trackpad and keyboard were not working properly which is particularly frustrating. The customer suspected a minor spill incident was the cause of the issue, so we started our diagnosis by opening the computer and visually inspecting it.
Upon careful examination, our initial suspicion was confirmed as we discovered corrosion on the trackpad, a clear sign of contact with liquid. When dealing with liquid damage, it is important to work meticulously. Our meticulous approach is what sets us apart and ensures a reliable repair.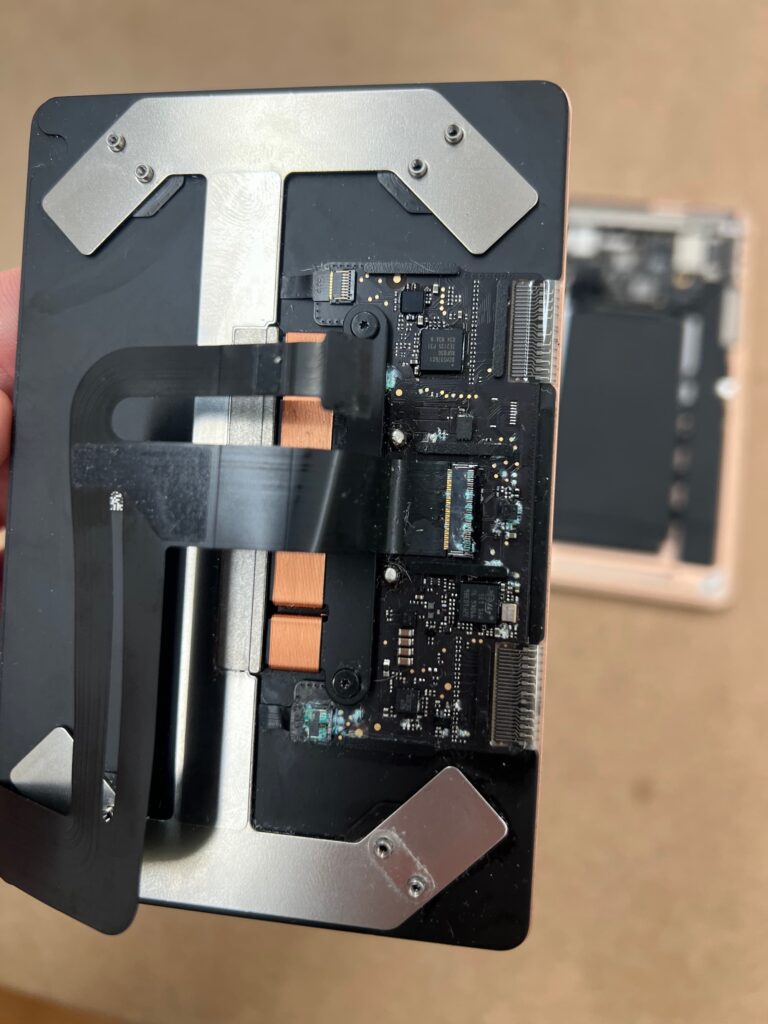 The only component that was damaged was the trackpad itself. The keyboard is connected to the logic board through the trackpad, which is why the keyboard was malfunctioning. After replacing the damaged trackpad, the keyboard functionality returned to normal.
We quoted a turnaround time of 5-7 business days to bring this M1 MacBook Air back to life and ordered the brand-new OEM trackpad. Quality parts are crucial to achieving a lasting repair, which is why we only use OEM parts on this 2020 M1 model.
The repair process involved the careful removal of the damaged trackpad and the installation of the new trackpad. We rigorously tested all functions of the M1 MacBook Air to ensure everything was working as it should.
This repair journey reminds us of the importance of meticulous diagnostics, quality parts, and a commitment to excellence. We're proud to have helped our customer, and we're here to assist with any repair needs you may have. If you're facing a similar issue with your device, don't hesitate to reach out. You can view everything we for Macs on our Mac repair services page.
If you have a device in need of repair or any questions about our services, please contact us today. We're here to help you get back on track.