Contact Info
Customer Service Number: (215) 914-5775
Email: sales@macktechs.com
Manayunk iPhone Repair
4329 Main Street
Philadelphia, PA 19127
(215) 914-5775
Business Hours:
Mon – Fri: 11am – 6pm
Sat: Closed
Sun: Closed
---
Location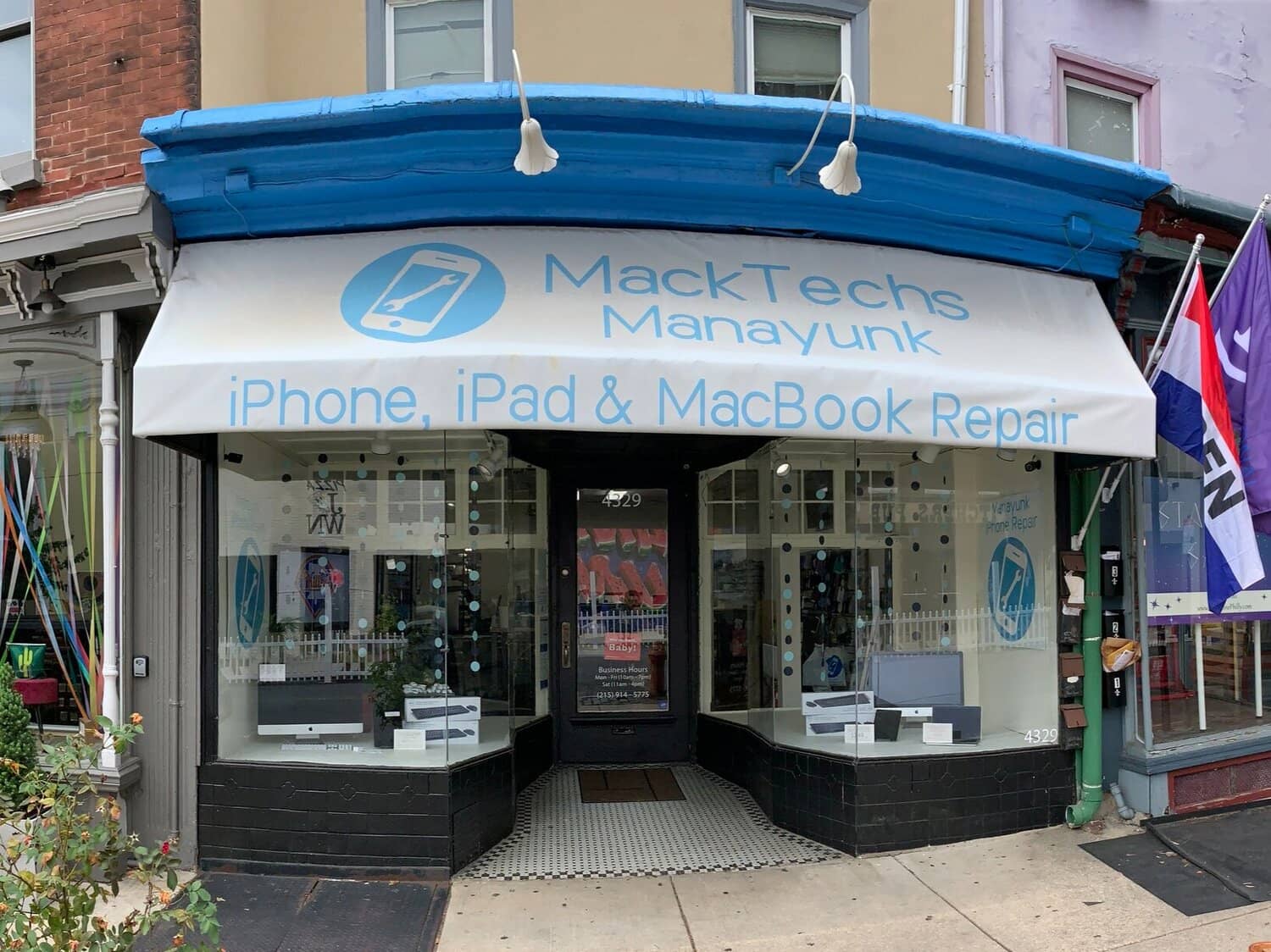 MackTech's Manayunk iPhone Repair is located on Main Street in Manayunk. We are directly across the street from Pizza Jawn and Pitchers Pub, between Cotton Street and Grape Street. From I-76 take the green lane exit and make a right on Main Street. We are about a half mile on the left side.
Parking
Metered parking is available in front of the store and on all of Main Street. You can pay for parking using the kiosks on the street or through the MeterUP app that you can download to your mobile device. There are multiple paid parking lots throughout Manayunk as well.
MackTech's iPhone, iPad, and Mac Repair
In 2014 we opened Mack Tech's Manayunk (AKA Manayunk iPhone Repair) on Main Street in Manayunk and soon made this popular spot our business headquarters. In September 2018 we moved up Main street to our current and much larger location at 4329 Main Street in Manayunk.
Manayunk iPhone Repair
In 2014 we opened our Main street Manayunk location and it quickly became the most popular spot for iPhone screen repair in Philadelphia. We offer the most Apple device repairs in the entire Philadelphia, Main Line, and Montgomery county region. We are located on Main street in Manayunk and only 5 minutes or less from Roxborough, East Falls, and Andorra. We offer only original or original refurbished replacement parts and are still able to offer some of the best prices around. When we first opened we were limited to iPhone screen repair but over the last five years, we have added many more iPhone repair services, as well as iPad repair. However one of the most popular services we have added is our Mac repair. All of our repairs include a warranty. If you live in Manayunk, Roxborough, East Falls, Andorra, Mount Airy, Germantown, or any surrounding community we can help and we're right next door. Located on Main Street in Manayunk. We are the Main Street Repair Manayunk Professionals. Do not get confused by our local competition with the name Main Street Repair Manayunk. We are MackTechs Manayunk iPhone Repair, and we are the real Main Street Repair Manayunk shop.
Device Accessories and More
Whether you need a phone case, screen protectors, cables, cords, chargers, headphones or anything else to help make your day better and get stuff done, we can help.
Refurbished iPhones, iPads, Macs and MacBooks, Apple Watch and more for sale in store