The iPad Air 3 was released in 2019 and is a great usable iPad in 2022. It works great with the latest iOS, has modern capabilities, and it is worth it to repair the screen on this model!
Different Types of Screen Damage
There are a few different types of damage we see a lot with iPads. The most common by far is cracked glass on the screen. This means the image is still working and is not distorted in any way, but there are cracks visible over the top of the image. It is like your iPad has a cracked windshield.
The other type of damage is a bad LCD panel. This is when there is some kind of crack or damage to the LCD panel that causes the image to be distorted. This distortion is usually lines or blotches or areas that are not visible any longer.
This iPad has a broken glass panel and a damaged LCD panel. You can see the crack in the glass on the bottom right of the screen. You can also see where the LCD panel is damaged at the bottom right, causing horizontal lines on the bottom inch of the LCD panel. For this iPad Air 3, we needed to replace both the glass and the LCD panel.
Once the LCD and glass were replaced, it was as good as new!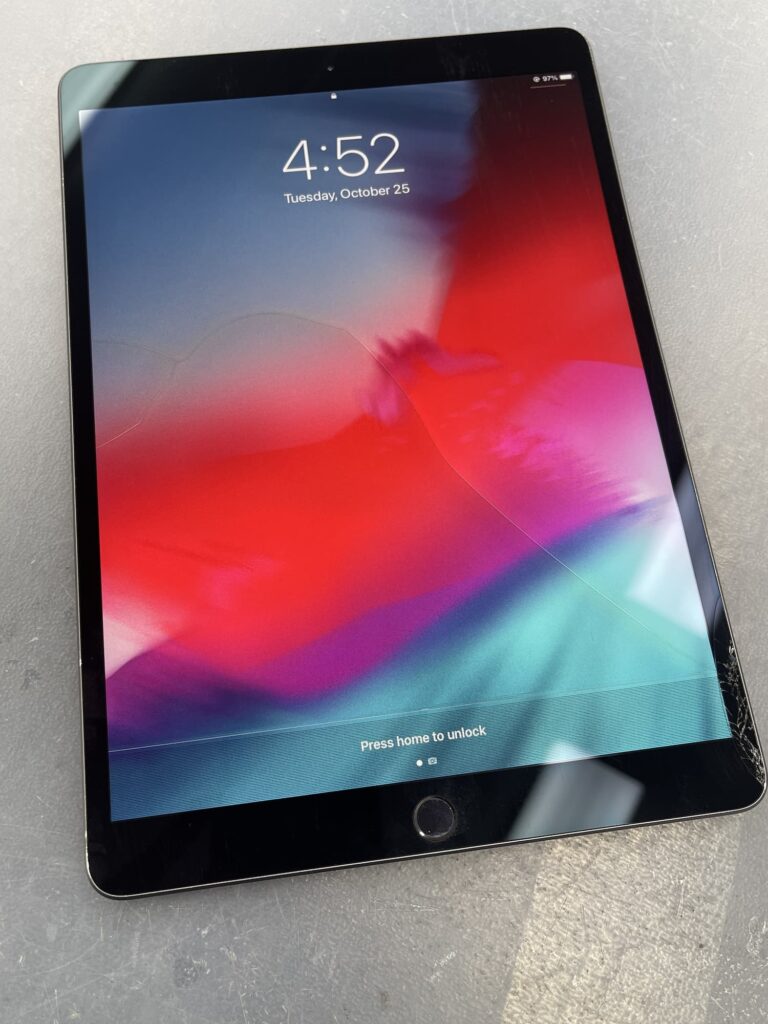 iPad Air 3 Screen Replacement Price
The cost of the screen repair will depend on what parts are damaged on the iPad. Around 80% of the time, it is the glass that is cracked and requires replacement. But every so often we see just a broken LCD panel, or an LCD panel and glass repair as in the pictures above.
Just glass costs $225 to repair when this post was written. To see current pricing you can view our iPad repair page, or contact us and we can provide a quote.
This particular iPad Air 3 LCD + Glass repair costs $275 for the repair.
Turnaround Time For Screen Repair
We offer quick turnaround for iPad repair at our shop here in Philidelphia. Our usual turnaround time is 2-3 days for an iPad Air 3 screen replacement. Do note that we repair your actual device, rather than swapping out the whole device as the Apple Store does. Sometimes people opt to have us repair their screen not just because of the quick turnaround and lower cost, but also because they don't have to lose the data that is on their broken iPad Air.
Get iPad Air 3 Screen Replacement
Our iPad screen repair services are available without an appointment at our Manayunk, Philidelphia location. We keep iPad parts in stock, so we are able to offer touch screen repair, battery replacement, and charge port repair in-store.
We also offer all our iPad repairs Nationwide utilizing our Mail-in service. If you aren't close enough to come by our store, just ship your device in to get repaired! You can view all the shipping info and fill out our mail-in form on our Mail-in page.
FAQ
Can iPad Air 3 screen be replaced?
The screen on an iPad Air 3 can be replaced. We are able to replace just the glass if that is all that is broken, or the LCD panel and the glass if the image is distorted.
Can shattered glass on an iPad be replaced?
Shattered glass on an iPad can be replaced. Shattered glass is extremely common and likely the number one iPad service we perform.
How much does it cost to replace the screen on iPad Air 3?
Cracked glass screen repair is $225 for the iPad Air 3 screen. If you need the glass and LCD replaced, it is $275 for that repair.
Is an iPad screen worth fixing?
The cost of the average iPad repair is much less than the cost of even the most basic brand-new iPad Apple sells. However, the decision to get an iPad repaired or buy a new one often comes down to the limitations older iPads will begin to exhibit as they age. Older iPads that can no longer be updated to the latest iOS will not be able to download most apps and may perform common tasks sluggishly. When this begins to occur, purchasing a new, used or refurbished iPad from MackTechs is probably the best option.
Can I replace an iPad screen myself?
How does the Mail-in service work?
You can start the Mail-in process by viewing our Mail-in page and filling out our quick form. Once the form is filled out you ship your device in to our shop in Philidephia, then we repair the device and ship it back to you.
Do I have to make an Appointment?
You do not have to make an appointment for iPad repair. If you want to call ahead and let us know you are coming by for an iPad repair, feel free to contact us!
Is there a warranty on your iPad screen repair?
We have a 1-year warranty on our iPad screen repairs.