It is usually very obvious when you have a cracked screen on your MacBook Air. The screen usually has lines or blotches visible, and it is either difficult or not possible to use the computer normally. But there are a couple of different parts in the display assembly that can be damaged. As a shop that repairs only the damaged component, we start by checking the display assembly for dents or damage that would require more than just replacing the cracked LCD panel.
A2179 MacBook Air Screen Repair Options
There are three repair options we offer for A2179 MacBook Air screen repair.
LCD panel replacement. This is by far the most common repair we provide. If your screen has been cracked and there aren't any bad dents or bends to the display, we can usually replace just the cracked LCD panel
LCD panel repair. This is a rare repair option on the MacBook Air models, but every once in a while we will run into an issue that we can repair rather than having to replace the LCD panel. An example of this type of repair would be a Dust Gate repair.
Display assembly replacement. If there is something wrong with the display assembly that makes it require replacement (think bad dents or bends to the display assembly) we do offer full display assembly replacement.
MacBook Air A2179 Screen Repair Cost
A lot of shops will replace the entire display assembly when the LCD panel goes out on these MacBook Airs. The labor involved in replacing just the broken part of the screen is a lot more involved and requires quite a bit of experience and practice. It is far easier to just replace the entire display assembly, but it is also a lot more expensive! By replacing just the LCD panel we save you money and also reduce the amount of waste that is created by throwing out perfectly good parts.
An LCD panel replacement on the A2179 model MacBook Air is $349.
There are some times when replacing just the LCD panel is not possible on this MacBook Air model. For instance, if there is a bend to the display housing, a bad dent on a corner, or liquid damage is present inside the display, we would need to replace the entire display assembly.
The cost to replace the entire display assembly on this A2179 model varies, please give us a call to get a quote.
MacBook Air Screen Repair Case Study
As a repair shop, one of the most common types of repairs we encounter is fixing damaged laptop screens. Recently, a customer reached out to us after their MacBook Air A2179 suffered a cracked screen. The customer reported that the screen was likely broken from being sat on or due to too much pressure on the screen when the laptop was packed in their bag.
We told the customer to come on by our shop so we could take a look. We do not require an appointment for our free diagnosis, so they came by when it was convenient for them.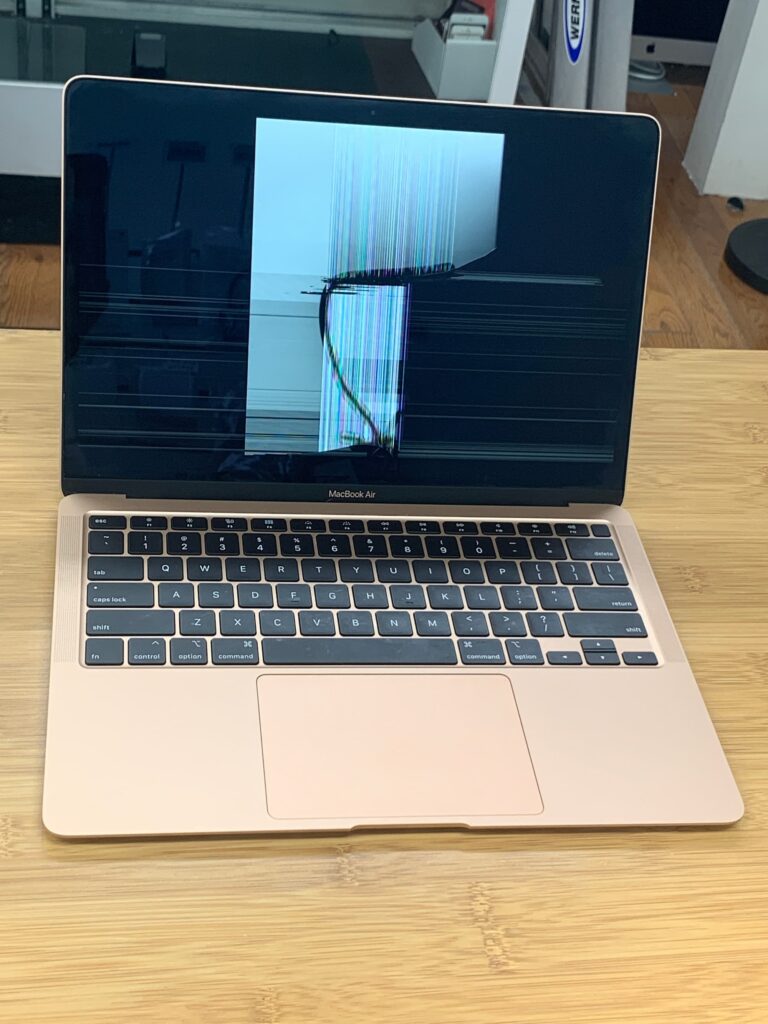 Once we received the computer we completed our diagnosis and determined that the cracked LCD needed to be replaced, but no other parts were damaged. This is a common and straightforward repair for us, so we quoted a turnaround time of 2-3 days and used an OEM replacement LCD for the MacBook Air A2179.
The repair process involved disassembling the MacBook Air, removing the screen from the top case assembly, heating and disassembling the screen assembly, removing the damaged LCD, and installing the new replacement LCD. Since there was no frame damage, just the LCD panel required replacement.
As you can see in the picture below, the computer works as good as new after the repair.
At our repair shop, we prioritize providing high-quality repairs with a quick turnaround time. We understand the inconvenience of not having your device available, and we work diligently to get it back to you as soon as possible. If you're experiencing similar issues with your MacBook Air or any other device, don't hesitate to reach out to us for a free quote.
DIY MacBook Air Screen Repair
As you have probably gathered, this is not a beginner-level repair. If you have a 2020 MacBook Air that has a broken screen and want to replace just the LCD panel, we do recommend taking it to a professional shop that will complete the repair at an affordable price. The chance of making something worse during this particular repair is pretty high if you don't have a lot of experience.
Our Affordable LCD Replacement Service
We offer affordable component-level MacBook Air screen repair for all models including the newer 2020 A2179 models. You can contact us with the model number of your computer (visible on the bottom of the laptop) to receive a quote for your repair. Don't waste money by having the entire display assembly replaced on your Air if the only issue is a cracked LCD panel! We can replace just the broken part of the screen fast.
Our A2179 MacBook Air screen repair service is available nationwide via our mail-in Mac repair service.